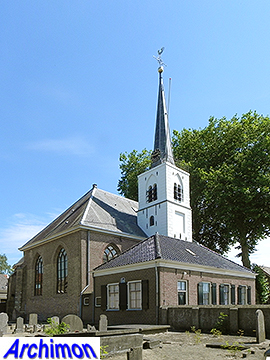 Merging municipalities are not unusual anymore, there are a few every January, and they're always a pain. I know I haven't made the appropriate changes to all pages involved for last year, let alone this year. This January came with a rare, and hopefully never to be repeated case. Not only did three municipalities become one, two of those were also transferred to another province. The new Vijfheerenlanden municipality page replaces the former Vianen (Utrecht section) and Leerdam (Zuid-Holland section) pages.
The good news is that it
also comes with four new churches in villages in the former Zederik municipality (a page I never finished), such as the one in the picture. Having to also transfer the pages about the reformed churches of Leerbroek and Leerdam to the Utrecht section is a thing I did not enjoy at all. There may be some loose ends.
If only politicians were more aware of the consequences of their decisions....
Even snel in het Nederlands: er is een nieuwe pagina over de kersverse gemeente Vijfheerenlanden in de provincie Utrecht. Deze vervangt de pagina's over Vianen en Leerdam. Hiermee neemt ook het aantal tweetalige pagina's met één af tot
200.